Focus on the best conversion ideas first
Get a prioritized list of highest certainty ideas based on 100's of tests.
If you are already optimizing your site for conversions (signups, sales, leads, and revenue), we can increase your chances of finding more frequent and bigger wins. Receive a prioritized list of testing ideas for your site that is based on real a/b tests.

We'll first discuss your needs and identify key metrics.
$4900
You'll Receive All Of The Following
Up To 25 Conversion Ideas For Up To 10 Screens
We'll first discuss your key metrics and goals. We'll look at your analytics and identify a handful of key pages and segments to focus on. We'll then analyze up to 10 key screens and list out up to 25 of our top ideas in a spreadsheet format. These will be ranked by degrees of certainty, effect and effort.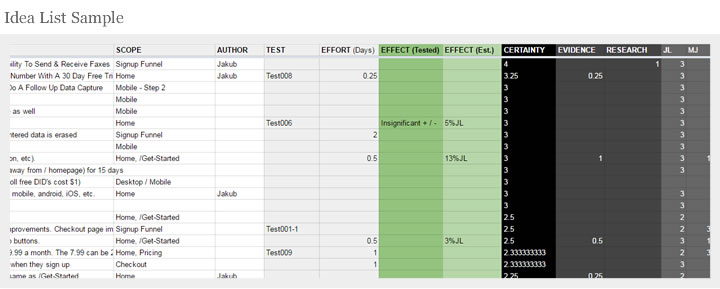 Access To Our Experience Of
100's Of Tests
We're experts in UI design with a focus on conversion optimization. We've designed and seen over a hundred of experiments. We'll share with you this deep expertise throughout the project.
Prioritization Session
We'll involve you in the process and include any ideas you might feel strongly about. We'll also show you how to prioritize ideas and get your input for greater accuracy over a call.
One Test Concept
FREE
We'll take one key idea or two and design a full test concept around it with possible multiple variations. You will be able to take this and build an experiment from it.

One Iteration
FREE
If the concept requires a minor iteration or adjustments, we'll include one revision for free - based on your feedback.

We Can Support You Flexibly If You'd Like
$1900 Per Test Concept
If one test concept is not enough, we can take additional ideas from our prioritized list and turn them into detailed test concepts for you to setup and run. Each test has clearly defined: changes, scope, metrics, and variations.
+

Monthly Optimization Support

$6000 Per Month For Up To 3 Concepts

If you'd like us to continue prioritizing ideas, generating concepts (up to 3 per month), guiding you on test setup, being available for calls, watching and planning your tests, we can do so. We'll work with your team to ensure you are running the best tests first and stopping them optimally.