Receive rapid UI advice for your key pages Get a solid UI concept to help you seek out higher conversions
Do you know which of your key pages could benefit from help in converting leads into customers? Has your key page never been optimized before? Or perhaps your page still does not exist and you wish to start off with a strong design? We live and breathe conversion focused UI design and can deliver rapid sketches for all of those situations.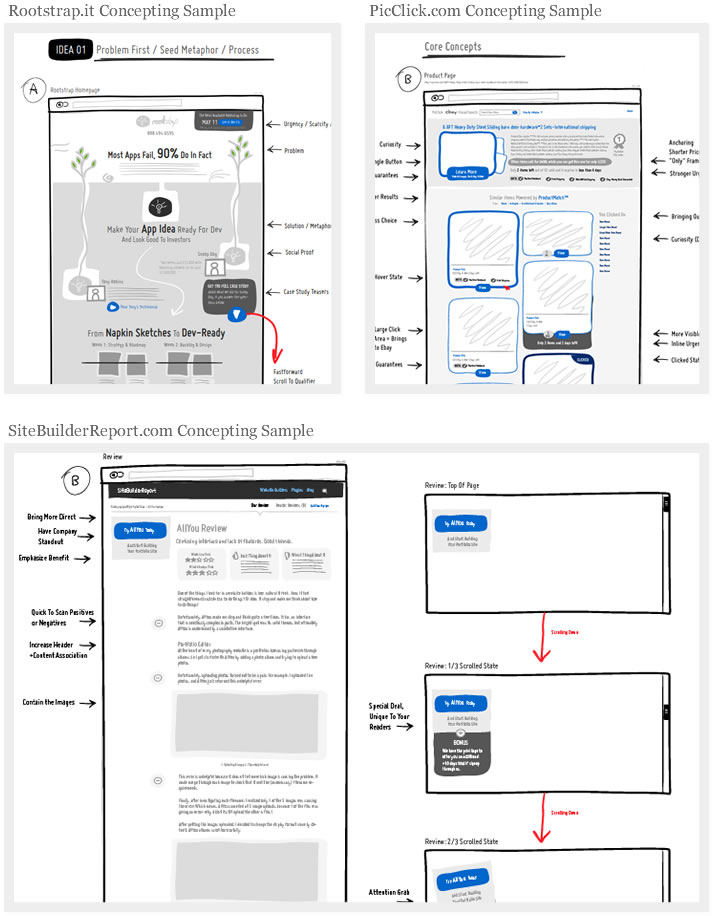 You'll Receive All Of The Following
Our Best Shot Sketch
We'll target a key page that is most important to your business. You will receive one conceptual sketch of our ideal recommendation to your user interface with a deep focus on raising your conversion rate.
Up To One Hour Consultation
When finished, we can do a call to go over the suggestions as well as answer any of your questions.
Access To Our
10+ Years

Of Experience

We're experts in UI design with a focus on conversion optimization. We've designed hundreds of screens and ran countless a/b tests. We share with you this deep expertise in sketch/concept form.
Quick Delivery
We deliver most projects within 3 working business days.
Additional Minor Variation Ideas
FREE
We might also include small variation ideas free of charge, should you wish to turn this into an optimization project.
One Iteration
FREE
If the concept requires a minor iteration, we'll include one for free. If it requires further revisions, we can flexibly keep doing so at 1,000 per each iteration.

Receive Rapid Advice To Raise Your Conversions


And tell us what are your key pages you'd like to improve
Starting at $1900 per Screen
Questions?
Email
or call Jakub Linowski at +1 647 379 3699

What Our Satisfied Clients Are Saying
"

I've had the privilege of working with Jakub for over a year now. His interface design skills and process is absolutely exceptional. His concepts and approach to our sales pages have resulted in more conversions and more top-line revenue. Neon Roots can say with confidence we've seen ROI's many times over as a direct result of the work Jakub has brought to the table. " - Ben Lee, CEO & Founder of Neonroots.com
"

Jakub provided me with plenty of fresh ideas for improving my page. His ideas were actionable and will have a positive effect on my bottom line. Several ideas were low-hanging fruit that had me palm-to-forehead muttering "why didn't I think of that!" Getting Linowski's fresh eyes on a page will be my first recommendation to anyone looking to improve conversion. " - Steve Benjamins, Founder of SiteBuilderReport.com
"

Jakub is an expert in interaction design. It was great to get a fresh professional review on my website. Jakub was quick to understand the unique attributes to my design and user base. He was able to extract the best optimization tactics to pursue and detailed the best ways to implement them. What I liked most is how responsive he was to the project, it was done well and quickly. He spent a lot of time on the final review call explaining and consulting on all aspects. Great work, I would highly recommend working with Jakub immediately. " - Ryan Sit, Founder of PicClick.com
"

We needed a fresh pair of eyes to look at and improve our current conversion funnel before an approaching campaign. The Rapid Advice service and Jakub's UI concepts were quick, clear, helpful and most importantly generated a proven win. We actually measured the ideas in a real a/b test and the advice we received outperformed our control. We'll definitely be coming back for more UI advice in the near future. " - Alexandre Berard, CEO of Portablenorthpole.com

Receive Rapid Advice To Raise Your Conversions


And tell us what are your key pages you'd like to improve
Starting at $1900 per Screen
Questions?
Email
or call Jakub Linowski at +1 647 379 3699